Description
New one strap design for easier insertion and flipping operation
Ideal for all type of hollow wall, up to 3" (75mm) thick
Requires an one half inch hole
Fast and easy installation
Eliminates the potential for sagging fixtures
The FlipToggle is the only single-strap design that takes the guesswork out of hollow-wall anchoring. Its unique design securely holds the toggle for easy insertion into the pre-drilled hole. Once inserted, the spring tab flips the toggle into the right position so that when the collar is tightened the anchor is ready for the bolt. No jammed toggles, broken straps or misaligned bolts. Key Features: Installs into drywall and hollow CMU up to 2 1/8" thick with a 2 1/2" bolt. Bolt size: 3/16"-24 thread. Simple one-strap design holds toggle perfectly aligned for easy bolt insertion The collar ensures centered bolt placement in the hole and does not embed the bolt into the drywall, eliminating the potential for sagging fixtures. Installation: FlipToggle installs in four easy steps: Fold, insert, flip and tighten -- it's that quick!
The Anchor requires a 1/2" hole and a 10-24 screw (included 2-1/2" long)
Specifications
SAFE WORKING LOADS 2:1**
Ultimate Load and Safe Values
1/2" Drywall - Ultimate Load 178 lb, Safe Load 89 lb
5/8" Drywall - Ultimate Load 294 lb, Safe Load 147 lb
Hollow Concrete Block - Ultimate Load 807 lb, Safe Load 403 lb
** Loads may vary according to the quality of the drywall or concrete hollow block.
Warning: Use one-half or less of listed maximum values for safe working loads (as required by local regulations).
What's in the Box?
(10) Flip toggle anchors
(10) 3/16"-24 UNC bolts

Environmental conditions: Indoor, dry conditions
Material composition: Polypropylene, Steel, zinc-plated, Plastic
Installation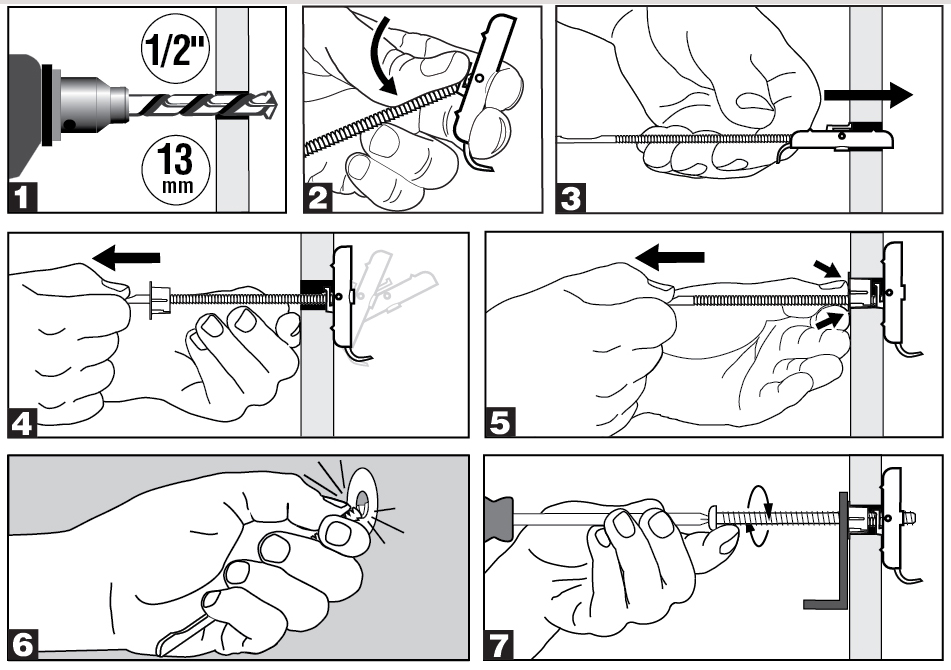 1. Drill the appropriate hole size.
2. Flip the metallic head of the FlipToggle® as shown, in order for it to be aligned and secured onto the strap.
3. Insert the FlipToggle® into the drilled hole.
4. When completely inserted, pull the strap towards you which will flip the toggle flat against the back of the wall.
5. Hold the strap towards you while pushing the cap until reasonably tightened against the wall.
6. Place your thumb on the strap next to the cap. Bend downward sharply to snap off the excess of the strap flush with the wall.
7. Insert the bolt through the fixture, into the anchor and tighten it securely to the metallic head.
Extra Information
Primary:
Drywall, Gypsum Board, Plaster, Tile, Block
__Product Type:
Flip Toggle
Videos